October 13, 2014
Historial del rendimiento de los bonos soberanos a 10 años.
(Source: gurusblog.com)
August 24, 2014
McLaren F1 GTR (1995) - McLaren P1 GTR (2014)
August 24, 2014
Evolución de la principal fuente de energía por estado en EE.UU (2000-2014)
(Source: Gizmodo)
August 16, 2014
Celebrando mi cumpleaños por todo lo alto…a unos 1.710 metros ;-D
July 21, 2014
Los 10 proyectos de Ingeniería Civil más impresionantes de todos los tiempos. Norwich University.
—
De postre: macedonia de ingeniería

(Source: archdaily.com)
July 13, 2014
Las cifras de desempleo en EE.UU siguen su senda positiva y regresan a los niveles de 2008.
Pero, ¿qué hay más allá de ese 6,1% de parados en la principal economía del mundo?.
En The Upshot, el proyecto del New York Times dedicado a eso que llaman periodismo de datos, han publicado cómo "la Gran recesión" ha transformado la economía y el mercado laboral en 255 gráficos.
A veces llega a ser abrumador, pero la calidad de la investigación y lo bien que está hecha la web merecen al menos un paseo.
(Source: flowingdata.com)
July 13, 2014
Ha pasado bastante tiempo desde el mi último post, pero a ver si con cosas pequeñas como esta vuelvo a recuperar un ritmo de publicación decente. 
Me ha llamado poderosamente la atención el dato del consumo de cemento en China en estos últimos tres años, que supera en un 30% al volumen usado por EE.UU. en todo el siglo XX.
Es una bestialidad se mire por donde se mire, para levantar una economía como la de EE.UU. que ha sido la más grande del mundo desde los años 20, se tiene que gastar mucho cemento. Quizá el haberse librado de ser campo de batalla en las dos guerras mundiales (con la consiguiente reconstrucción), o haber dado el salto a una economía industrial en las décadas finales del siglo XIX o la falta de mantenimiento de las infraestructuras podrían explicar en parte la diferencia con respecto al gigante asiático.
Pero es que visto desde el lado chino, que en sólo 3 años hayan consumido esos niveles de cemento te hace pensar en el nivel de la burbuja en la que están metidos (las ciudades fantasmas). Esa cifra no la soporta ningún dato económico. Hay que tener en cuenta que aunque China sigue "en construcción", de 2011 a 2013 han sido años donde se ha suavizado su crecimiento económico, ya no son esas cifras de doble dígito de su despegue económico tras las reformas de Deng Xiaoping y los grandes eventos celebrados en el país son anteriores (JJ.OO. en 2008 y Expo en 2010). Lo único que lo podría explicar es el aumento del crédito en la economía: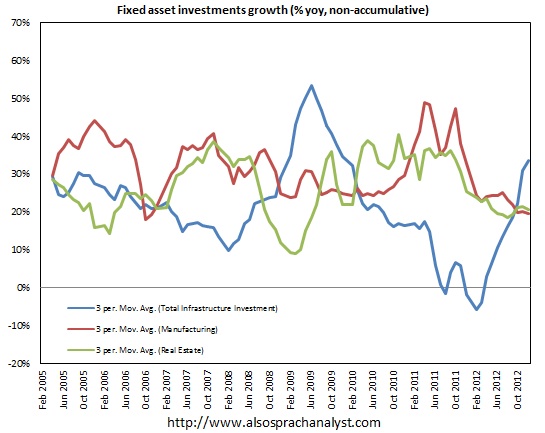 En definitiva, por mucho que intente encontrar las razones que avalen el dato, después de haber leído "El hombre anumérico" algo me dice que por algún sitio algo no cuadra.
—
De postre: macedonia de consumo

(Source: gurusblog.com)
May 3, 2014
"…The single best thing that has happened in my lifetime in music, after punk rock, is being able to share music, globally for free…"
— Steve Albini, Productor musical.
(Source: qz.com)
April 22, 2014
Inflación real Vs inflación oficial en EE.UU. (2000-2014)
—
De postre: macedonia de inflación

(Source: gurusblog.com)
April 13, 2014
Pantheon, analizando la producción cultural de la humanidad.
Ayer publicaba una excelente herramienta para analizar los flujos del comercio mundial y hoy sigo en la misma línea, pero cambiando la actividad económica por un tema mucho más elevado y ambicioso: la producción cultural de la humanidad.
Os presento Pantheon, un proyecto de la gente de Macro Connections, uno de los grupos de investigación integrados en el MIT Media Lab (EE.UU.) dirigido por César Hidalgo, que es también co-autor del Atlas of Economic Complexity que comentamos ayer.
El objeto del proyecto se basa en un concepto realmente difícil de medir, que nada tiene que ver con la objetividad del dato de un intercambio comercial expresado en dólares, y por si esto no fuera poco, hay que añadir el hecho de lo sumamente complicado que sería definir qué se entiende por producción cultural. Esta es la respuesta que ofrece la gente de Pantheon:
Pantheon will not focus on culture, as it is understood in its broadest sense, but on cultural production. In a broad sense, culture can be understood as all of the information that humans—or animals [1]—generate and transmit through non-genetic means [2]. At Pantheon, however, we do not focus on the entire range of cultural information, but in a subset of this information that we define narrowly as cultural production. That is, we do not focus on cultural information such as passed on family values or societal trust [3], but on cultural production as proxied by the biographies of notable historical characters. Moreover, we focus on the subset of cultural production that we can identify as 

global

 culture, meaning the subset of cultural production that has broken the barriers of space, time and language. By focusing on global culture we do not deny the existence of importance of local culture, but simply, choose to focus on global culture because it is a subset of the world's cultural production that is relatively small, easy to map and of clear importance.
 En definitiva, debemos tener en cuenta las limitaciones intrínsecas del proyecto, pero hay que decir que resulta terriblemente adictivo para pasar el rato construyendo nuestras propias consultas, comparativas y ranking sobre la producción cultural a través de la historia…que pueden llegar a ser de lo más curiosas.